Resources and Useful Links
Stories
The Power of Stories: A few ideas for home
Story books are a big part of your child's learning at nursery. We would recommend that you share at least one story book with your child every day, however the more the better!
It is important that you share a real book with pages and pictures, for you and your child to look at together. Physically turning the pages, pointing at things on the page, sharing the emotions that the story creates, are vital parts of developing a love of reading and stories. Research shows that children who have a love of books find it easier to learn to read when they start school and the way to instil a love of books in your young child is by regularly reading to them from being a very young. Reading is an essential skill for success in all areas of learning at school and for later in life.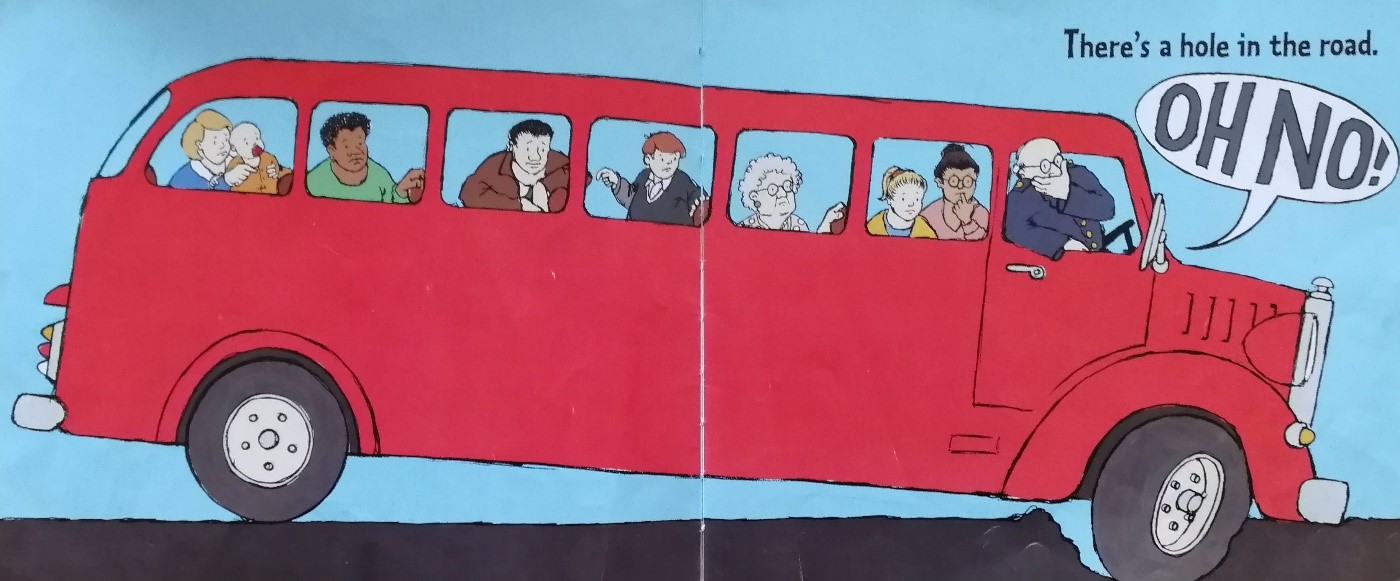 When sharing a book with your child, one of the best things you can do is to take your time; really slow the process down. Rather than rush to read what it says, just spend a few moments looking at the pictures together and wait. Let your child take the lead; listen to their language as they notice things in the pictures. Praise them for noticing and then add your ideas, maybe starting a little to and fro conversation. Stories are a very powerful way to develop your child's vocabulary, speech, understanding and literacy skills.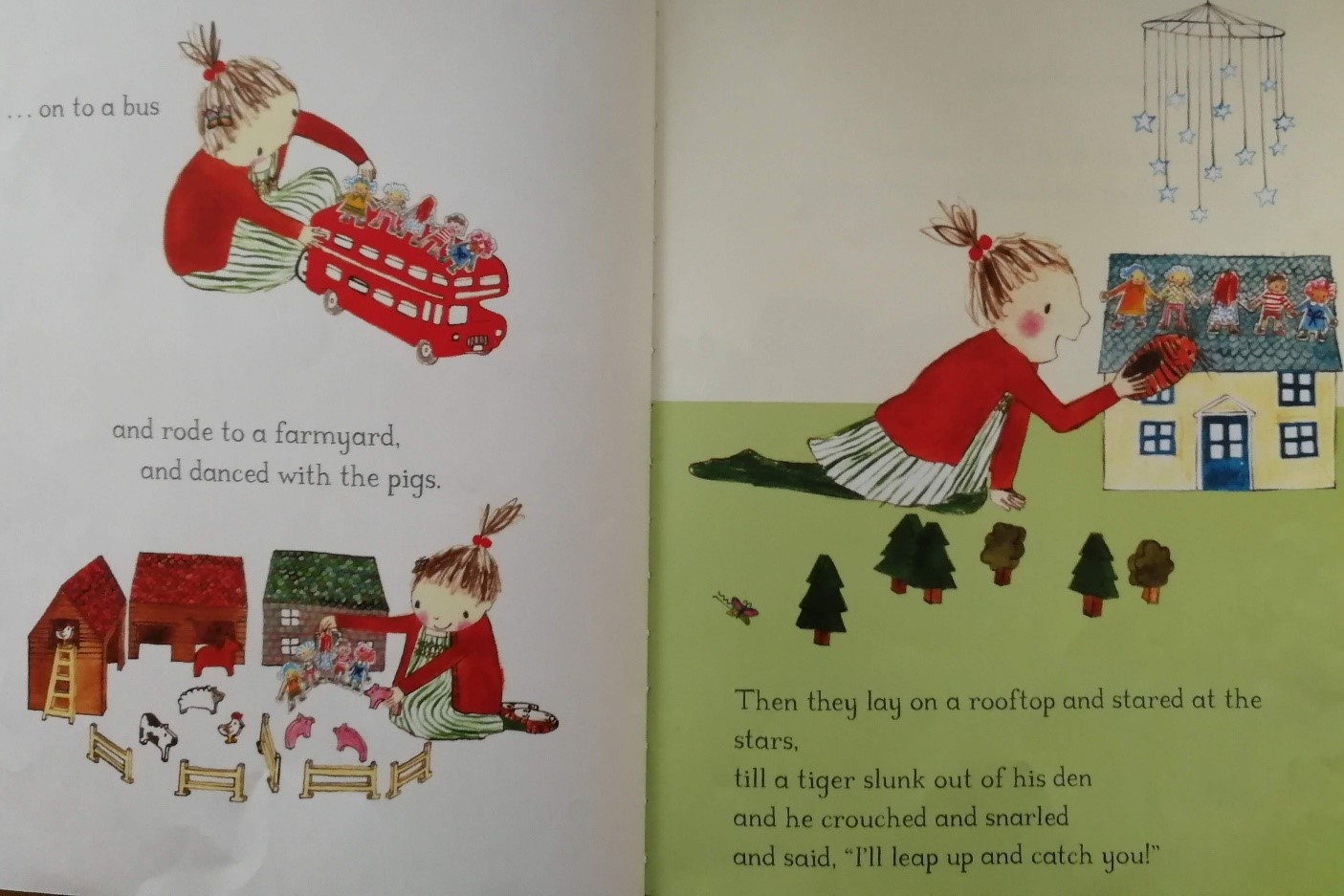 Stories also help your child to develop mathematical understanding, as together you talk about the different things they can see happening in the pictures. For example, in this picture below, from Paper Dolls by Julia Donaldson and Rebecca Cobb, you could talk about the people 'on top of the bus', and 'the stars are shining over the house'.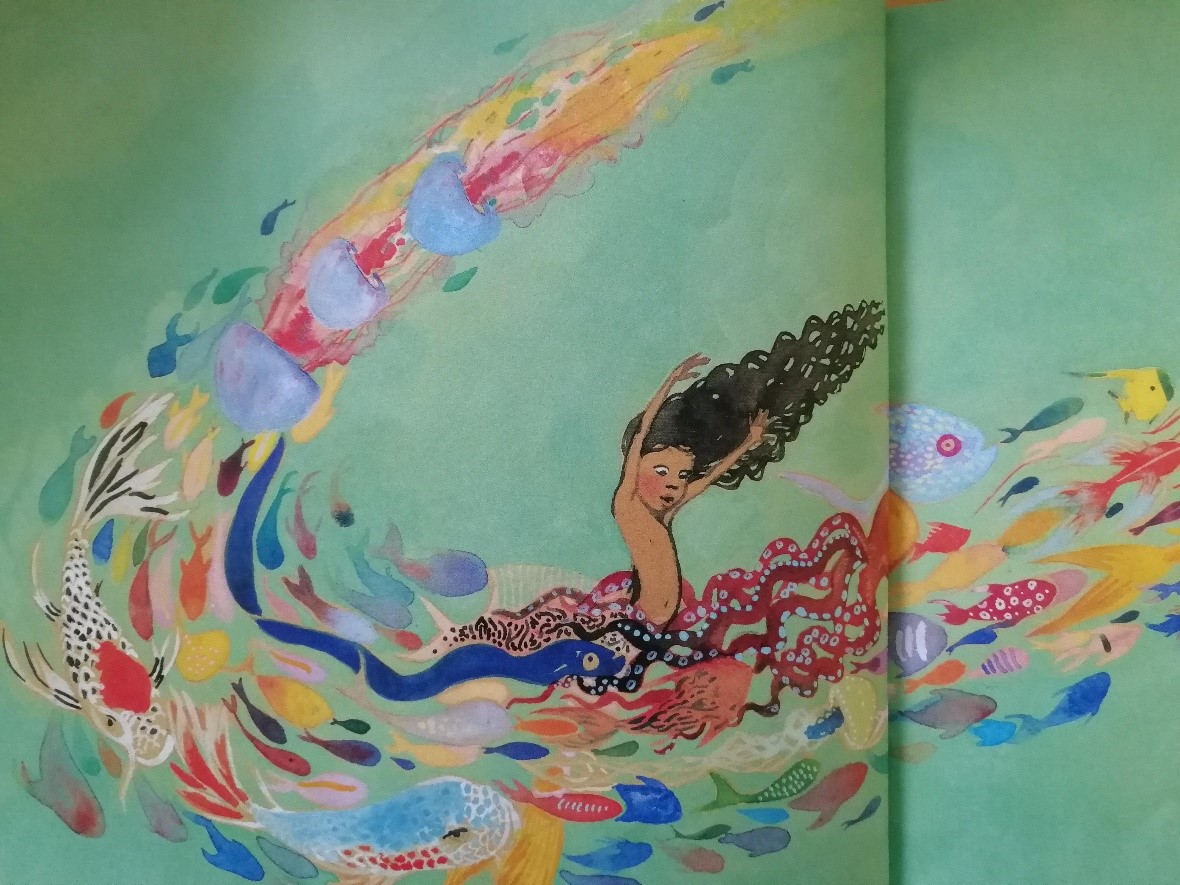 In this illustration from Julian is a Mermaid by Jessica Love, you could talk to your child about how the fish are making a 'curved line' and about the patterns and colours on the fish, maybe discussing which is your favourite.
If your child enjoys a particular story, they will want to hear it again and again. This is great when this happens! It means your child will be able to really remember the ideas, emotions and language from the story, therefore the connections in their developing brain will get stronger. As these connections strengthen, your child will be able to start using all the elements they have learned from the story in their play and in their relationships.
Sharing a story with your child is also a special bonding time for you and them. Your child will feel this, they will see that you have devoted this time just for them. This feeling of love for you and this shared time will significantly support their development in all areas.
Let us know if you need any more support with this. Enjoy these memorable times and feel good about the hugely positive impact sharing stories with your child is having on their learning!
Mark Making
Making marks; some ideas for home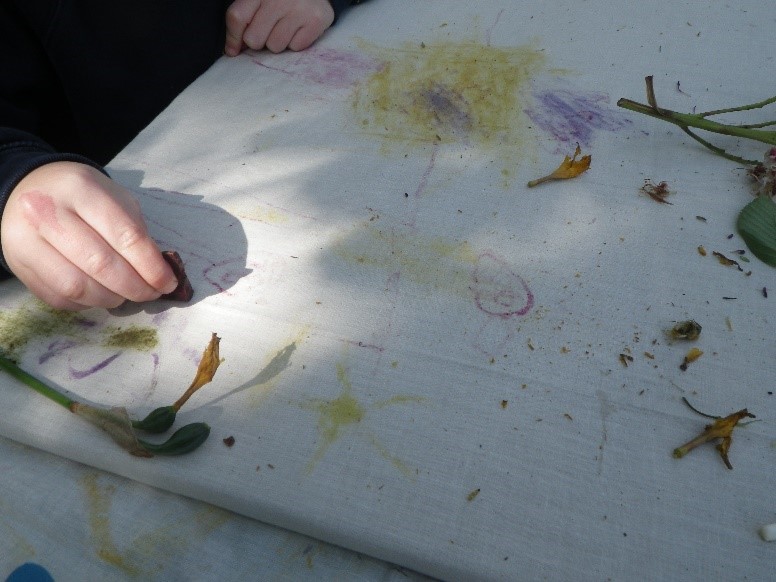 When out for a walk or in the garden or park collect some leaves and wildflowers. Let your child use them to make marks either on some paper or material. You could use an old pillowcase. It works better if the material is stretched and taped down.
Save wrapping paper from birthdays or special days, cut it up into different sized pieces for your child to mark make on.
Wrapping paper often has interesting shapes, colours, patterns and lines to notice and talk about. This is a good opportunity to use some mathematical language.
This is a firm favourite at nursery; painting with water. Use real decorating brushes or whatever you have, even old make up brushes! Then all you need is a bucket of water! This is great for all children but especially if your child does not enjoy sitting at a table to draw.
It's important that children are comfortable when they are making marks and for some children that means lying down to do it. If you've got the end of a roll of wallpaper, then lay it down on the floor or outside if you have space.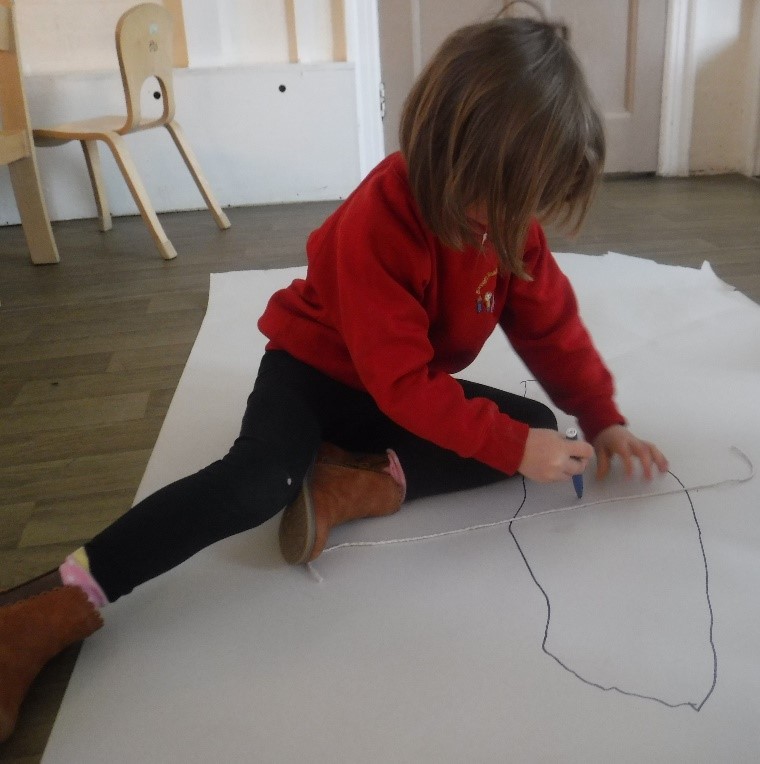 Your child can then use crayons, pens or pencils and enjoy the space!
Playing with real vegetables; an idea for home
At nursery we always have real vegetables for the children to play with. The children use real cutlery to cut the vegetables, although it is not sharp. This is something you could do at home.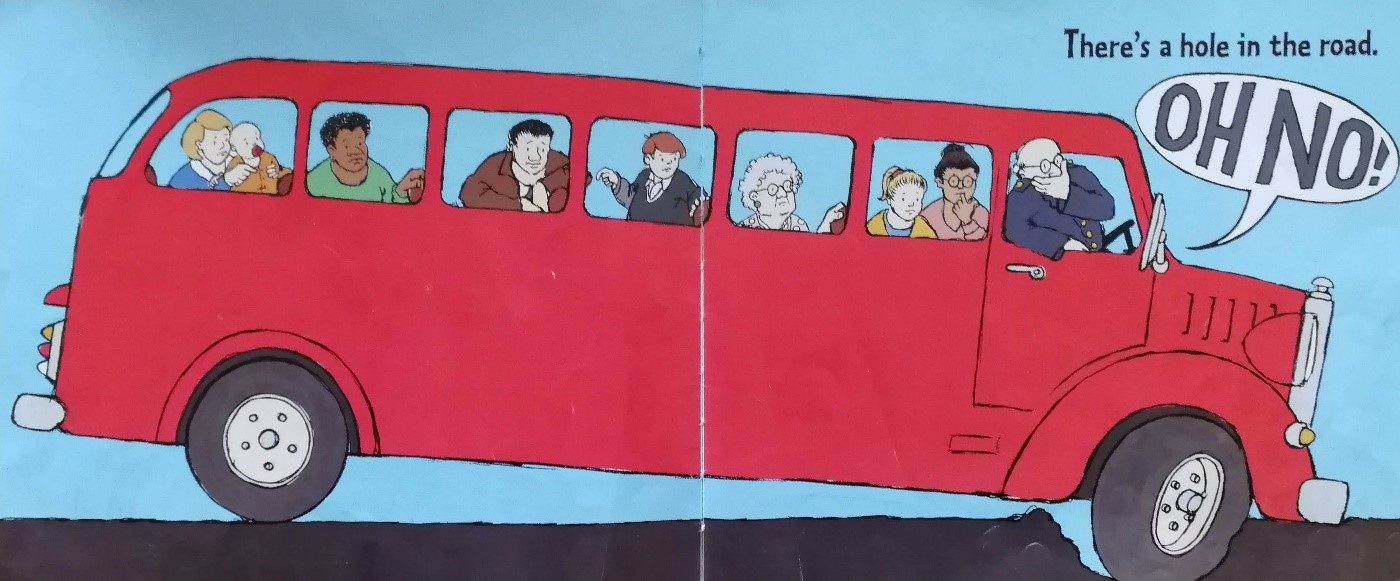 You could use the off cuts from the vegetables you eat, such as the outer leaves of a cabbage, tough stalks, the ends of carrots or parsnips or whatever is at hand.
At nursery we put the veg in a basket and provide real chopping boards, plates, bowls, cutlery and pans. We then leave the children to their play.
You do not need a child's toy kitchen; in fact, it'll be great if you don't because that will allow your child's imagination to develop. Just provide those things listed above on a tray or table and see what happens!
Some of the learning possibilities from this play are:
Developing hand strength
Finding enjoyment in persisting with something which is challenging
Developing imagination and creativity
Learning about healthy foods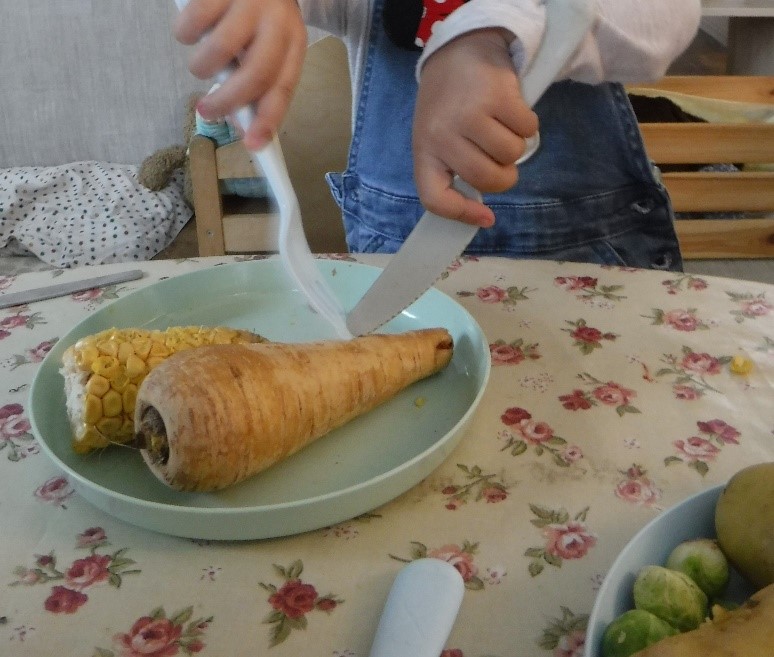 If you can, spend some time watching your children to see how they play and if they ask for your help with the cutting encourage them to keep going, this will allow your child to begin to solve their own problems and to build up a firm belief in their own abilities.
Let us know how you get on or get in touch if you have any questions.
Hello Song
Here is a lovely reminder from Alison. This is how we always start our day in nursery, welcoming our children and educators into school.
https://www.facebook.com/watch/?v=878081499380838
Support for Parents during Covid-19
This document from the North Cumbria & North East Children and Young People Peer Network provides some great advice for parents and carers supporting children during lockdown
Fine Motor Learning
In this video I demonstrate how to create a box of fun activities which will help to develop your child's fine motor skills and coordination. The video is for parents and carers, but there is a rhyme at the end that your child might enjoy joining in with!
Mess Free Muddy Truck Painting
Let your little ones use their favourite construction trucks to paint mess free! Full details can be found here
Music Ideas for Home
Durham Music Service has been streaming a number of sessions with ideas for parents to build their knowledge, understanding and confidence in using music at home with their children. These can be found on the County Durham Early Years Providers Facebook page:
https://www.facebook.com/CountyDurhamEYP/
and there are lots more ideas on the Durham Music You Tube
channel
.
Home Made Edible Finger Paint Recipe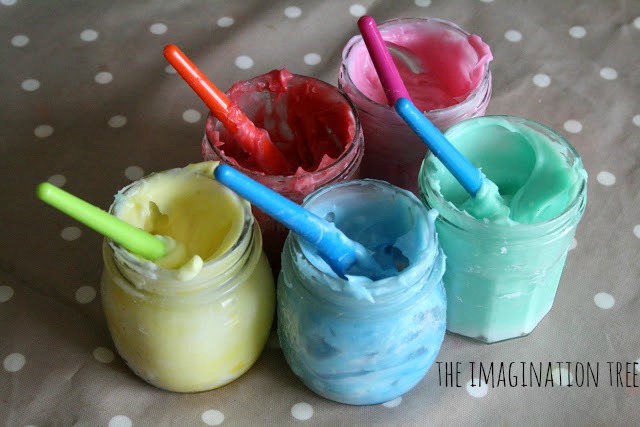 It's totally edible (though not that delicious!) and completely non-toxic, and the best part is it is so easy to make and will last! Details for the recipe are here
Dual Language Books
Mantra Lingua has made all of their dual language books available for free until August 2020. To access the books follow the steps below:
- Complete the form at this link: https://uk.mantralingua.com/homereading
- Go to your email and copy the access code provided from Mantra Lingua
- Go to read.mantralingua.com and enter the access code
- Create a username and password
- Login and search for eBooks in many languages!
How to Make a Number Spinner
Here's a video for parents, carers and children to show you how to make your very own number spinner that will do exactly the same job as a dice! Have fun taking turns and playing games!
Small Talk
This website provides really useful activity ideas for supporting young children's language at home.
Audio Books
Please check out the following web resource for free audio books for your families
https://stories.audible.com/start-listen
I Want my Hat Back!
Little Angel Theatre have released this lovely performance of I Want my Hat Back, by Jon Klassen. It is available to watch for free until the 7th June. Hope you all enjoy it!
More Music!
Durham Music Service has produced a YouTube channel with daily musical activities; the Groovy Moovy Monday and Tiny Tunes Tuesday videos may be particularly enjoyed by very young children.
Cheese Straws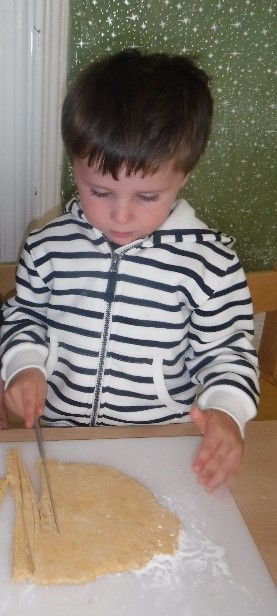 Try this easy and very tasty recipe for 'Cheese Straws'. With a little help the children should be able to help weigh out the ingredients and carry out all the steps themselves.
Ingredients
150g Cheese
40 g Butter
160g Flour
Pinch of Salt
Milk
Heat the oven to 200°C/400°C/gas mark 6
Weigh out the ingredients
Grate the cheese into a bowl
Cut the butter into cubes
Cream the butter and cheese together
Add the flour and mix in a little milk (a drop at a time) to make a dough
Sprinkle some flour onto the table/board and roll out the dough so it is about ½ cm thick and then cut into strips
Grease a tray and lay the strips onto the tray
Bake for 15 mins until golden brown in colour
A free book explaining Coronavirus to children
Axel Scheffler has illustrated a digital book for children, free for anyone to read on screen or print out, about the coronavirus and the measures taken to control it. You can read it here
Playlists
We love music and we know you all do too, here are a couple of playlists for you:
One you might enjoy to dance to or listen to:
https://open.spotify.com/playlist/1DefDxCeEsLf7N4CKvMMYw?si=auTSv9T3SfSjte028bq-YA
Alison made this to play in the classroom when the children are concentrating and working independently:
https://open.spotify.com/playlist/6ZfwejrJrXia1J1QsJ63kT?si=TIbkxWu4S9-sx7eHHOSENQ
Free Virtual Tours of World Museums, Educational Sites & Galleries For Children
https://www.familydaystriedandtested.com/free-virtual-tours-of-world-museums-educational-sites-galleries-for-children/
Loose Parts
Children will tinker for hours with obscure objects; a tin of mixed buttons, empty jars and their lids, a pile of pebbles. What each of these items has in common is a lack of restriction. With no prescribed method of play, children can explore, create and imagine. This special and exciting type of play is called 'loose parts play.' Loose parts enable children to undertake their own learning using everyday objects rather than 'toys'.
What makes this play so valuable is that it is impossible to use a loose part in the 'wrong' way. There is no sense of failure for children and as result they can gain a huge sense of personal achievement for reaching the goals of their play through discovery and experimentation.
'Everyone has the ability to be creative' (Simon Nicholson).

So enjoy collecting and creating together and we look forward to seeing
your wonderful creations.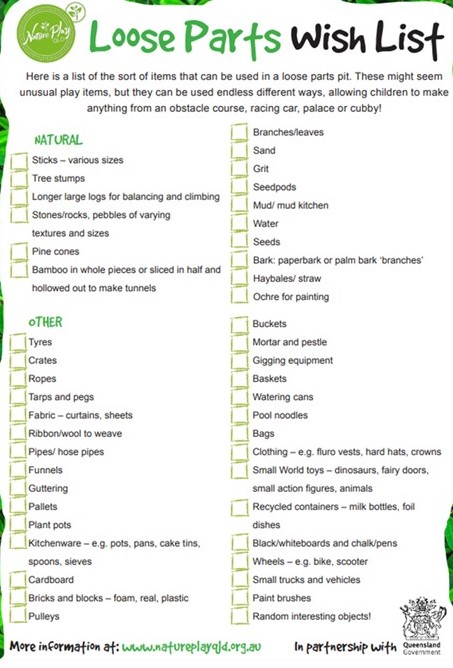 Durham Wildlife Trust
Durham Wildlife Trust is launching a new initiative to keep people entertained during the restrictions in place to cope with the coronavirus.
Wild@Home has been designed to help everyone spot plants and creatures in their own gardens, yards or nearby green spaces.
Free resources will be shared every Monday on the Trust's website and topics will include everything from tips on how identify plants and trees bursting into life and spotting garden birds, to how to survey the mini-beasts that are emerging.
Children – and adults – are been encouraged to share the information they gather by completing online surveys.
People taking part can find lots of information to assist with identification at www.durhamwt.com/wildathome and if any help is needed with identification, the Trust's staff are on hand to help via social media and email (mail@durhamwt.co.uk).
Laughter!
A short video explaining the importance of laughter to help reduce anxiety at this time. The sabre toothed tiger is Covid 19 at the moment!
Google Arts
Google arts and culture is a fantastic resource. You could take a virtual tour of dinosaurs in a museum and explore distant places of the world, plus so much more!
Transient Art - Inspired by Andy Goldsworthy
Transient art doesn't involve the use of glue. It is in fact non-permanent and process orientated with no expectations attached. Enjoy the sunshine and take yourself outside try creating some of your own art work using materials you can find. Playing outdoors is a great stress reliever and allows children to connect with nature, to explore, build and create with confidence. We look forward to seeing your creations.
Independent Skills
With time on our hands it is easy to worry about what we are not doing, therefore it has been refreshing to read on social media all the reassuring comments posted by others
. It is 'time' to stop putting pressure upon ourselves to get things done and make the most of the 'time' we have been given. Our children are learning all of the time - through the interactions they have with each other, with adults and their environments.
So take some time to appreciate the simple things in life and learn independent skills that will last a life time such as: getting dressed and undressed; learning how to use the toilet; putting on socks and shoes and taking them off; helping to sort the washing.
Gross Motor Activities

Snow Mouse
Travelling Light children's theatre company have made available their production of Snow Mouse, recorded in Bath earlier this year. It is a production for the under 5s and is just lovely. Enjoy!
SNOW MOUSE from lindsay baker on Vimeo.
Speech and Language Ideas
.